Bowed basement walls can be a sign of serious structural trouble under your home. If one or more of your basement walls is starting to bow inward, it's important to act quickly before the damage gets worse. Here are the most important things you should know right now.
When it comes to basement wall damage, here is what you should look out for
The most common cause of bowed basement walls is excess moisture around your home.
Even natural groundwater can put a surprising amount of strain on your foundation. Added factors like excess storm runoff or improper drainage can greatly increase the amount of moisture in the soil. Structural engineers call this force "hydrostatic pressure" and it's powerful enough to stress vulnerable parts of your foundation with the weight of an average family car.
This constant (or at least seasonal) pressure can build up against your basement walls over time and cause them to crack, bow and buckle inward. In turn, this can weaken their load-bearing capacity and eventually threaten the structural integrity of your whole house. The damage can range from a few superficial cracks to severe visible inward bowing and separation.Options to repair a bowed basement wall
Options to repair a bowed basement wall
The good news is that affordable repair methods are available to get your basement walls back in top load-bearing shape. Several proven technologies exist that can not only restore structural integrity, but also make cosmetic improvements and help prevent future deterioration.
The most important next step is to find a trustworthy technician who can evaluate your basement and give you reliable advice on the repair options that are best for your home and budget. Here are a few of the best approaches they might recommend:
Carbon fiber straps: This is a highly reliable and relatively inexpensive interior repair option that reinforces the wall and helps to evenly resist and redistribute any outside pressure. Once installed, they can be painted to match the wall and are nearly invisible.
Wall braces: Similar in concept to carbon fiber straps, this is an engineered steel option that can be anchored in place and then gradually adjusted to pull the wall back into alignment again. While engineered brace installation is mostly an interior job, it might be supported with some light outside excavation.
Wall anchors and tie-backs: These devices usually come in multi-part kits. An interior wall plate connects to a threaded locking rod, which is in turn attached to an exterior ground plate embedded in the nearest stable soil. The number and spacing of the kits is determined by the severity of bowing. From there, they work mechanically similar to braces.
Epoxy injections: To prevent moisture coming through minor cracks, epoxy injections offer both low cost and high structural integrity. Repair material can be applied from inside with no exterior excavation and little to no interior grinding or surface preparation.
The Force spring-loaded bowing basement wall repair system
In most cases, any of these basement wall repair options can work well with both block construction and poured concrete.
Hyrdrostatic pressure is working against your basement and must be addressed
Hydrostatic pressure is the most common reason why your basement walls might be starting to bow or bulge inward and must be alleviated through exterior grading, gravel backfill and drainage. Other causes, which may or may not contribute to the primary hydrostatic pressure issue could include:
Poor construction practices or inadequate grading on your home, or on neighboring sites.
Excessive amounts of rain or unusual flood events.
Tree roots that are spreading into parts of your foundation.
Heavy driveway or patio paving elements that add pressure to basement walls.
Hidden plumbing leaks due to poor installation or unexpected damage.
We an experienced basement wall repair company serving most of Alabama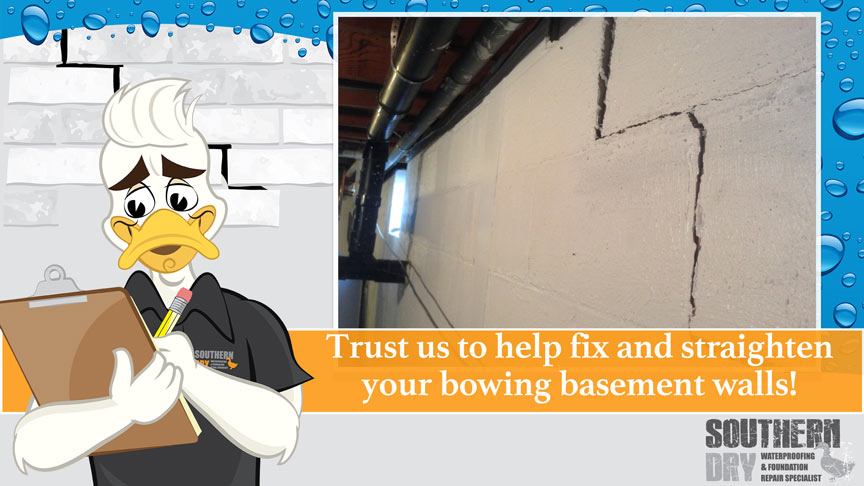 If you see bowed walls in your basement, or if you suspect that any of these other warning signs might be present, you should have a trained technician help you assess the situation. SouthernDry has qualified and experienced technicians who will take a look for free and give you a no-pressure evaluation of the state of your foundation and present you with the best repair options.
SouthernDry has been a trusted basement and crawl space repair partner for years in Alabama. We can help you seal and straighten your basement walls with affordable and proven preventative measures like basement wall braces, basement wall anchors, epoxy injections, wall linings, sump pumps, basement interior drainage options, and advanced sealing techniques that will improve the living experience for your whole family.