Birmingham's Definitive Guide to Foundation Repair
The threat of foundation trouble is a scary prospect for any homeowner, and it can raise a lot of questions. If you think there might be structural problems under your home, you want answers you can trust. That's why we've put together this simple and direct foundation repair guide.
Here's where you'll find the answers you need to protect your home and your budget. We'll cover things like common foundation problems in the Birmingham Alabama region and how to spot them, repair options and pricing, real estate considerations, and the conditions around your home that might lead to structural damage, including soil, water, climate, or construction methods.
What Birmingham Foundation Repair may cost – nationwide averages
Maybe it's just human nature, but if you're anything like us, you tend to skip ahead on any quote or estimate to see the total before you read anything else. That's why we decided to give you some pricing figures to go by first. Keep in mind that these are very general national averages, just to give you an idea what people might be spending on residential foundation repair in and around Birmingham, Alabama.
First, what determines what a foundation repair job costs? That depends on several variables:
The age and location of your home
The construction materials and methods used for your foundation (slab, footing, etc.)
Your property's elevation, terrain, and surrounding soil types
The nature and extent of structural damage and how advanced it is
The care taken to prepare the soil by the contractor who built your home
Price and availability of materials, local labor rates, and permitting requirements
Your own personal home improvement goals
Companies like Angie's List and Home Advisor, and trade organizations like the Concrete Network have run some nationwide studies to find out what homeowners across the country are spending on foundation repairs. They've found that costs can run anywhere from a few hundred dollars for superficial cracks to $10,000 and up for an extensive "whole house" hydraulic pier restoration.
Keep in mind that these numbers are on the extreme ends and don't represent what most Birmingham area homeowners actually experience. A recent survey of over 2,600 HomeAdvisor customers puts the national average for foundation repair cost at around $4,173, with the more typical homeowner paying somewhere between $1,842 and $6,566 to get their homes back in "like new" shape. Our own data indicates an average cost of $7,400 for structural repairs in the Birmingham area.
If you live in Alabama's Jefferson county area and think you might have foundation problems, there's no need to panic or worry. With the right professional help, most repairs can be done very affordably and may last for the life of your home. The important thing is to call a qualified professional to help you check things out as soon as you see any of the common signs of trouble. The most reputable companies will do an initial evaluation free of charge and help you understand what your best options are.
At SouthernDry, we offer free estimates and payment plans as low as $79/month.
Common causes of foundation problems in Birmingham, AL

To get the straight story on how foundation trouble starts, you have to begin with the soil conditions underneath your house and in the surrounding area. According to the U.S. Department of Agriculture, Jefferson County covers 1,115 square miles in a geological part of the United States called the Appalachian Highlands. The region has 21 different soil types, mostly of the loam and clay variety.
The good news is that loam is practically ideal for stable foundation support. It's usually a mix of sand, silt, and clay, which means that it can handle moisture changes at a pretty constant rate. Clay, on the other hand, expands and shrinks a lot with alternating wet and dry periods, which can put a lot of stress on foundations. Over time, the constant pressure and shifting can weaken parts of your foundation.
Even routine seasonal moisture changes can strain your house with what we call "differential movement," sometimes with a force of more than 5,000 pounds per square foot. This pushes parts of the structure upward in the wettest areas, as support falls away in the driest areas. When you add extreme weather conditions like major storms or flooding, potential damage can be even worse.
Consider that five of the 10 costliest hurricanes in U.S. history have impacted Alabama: Irma and Harvey in 2017, Katrina and Rita in 2005, and Ivan in 2004, as reported by the Insurance Information Institute.  Alabama happens to be one of 19 U.S. states that require a hurricane insurance deductible that can typically run you anywhere from 1% to 5% of the total insurance value of your home.
In addition to these big contributors, there are a number of other (sometimes hidden) environmental factors that can cause your foundation to deteriorate over time:
Frost heave from extreme freezing or thawing
Tree roots that either push on the foundation, or draw moisture away from supporting soil
Undetected plumbing or sewer leaks
Normal seepage from in-ground gunite pools
Excessive storm runoff or snow melt that collects near or under your foundation
Damaged or improperly installed rain gutters
Poor drainage around your home that causes water to pool near the foundation
Improper soil preparation underneath slabs
Construction activity on adjacent lots that causes your soil to shift
Depending on the severity, the Concrete Network says that just about any type of foundation (from slab to poured footing, to a variety of basements and crawlspaces) can be damaged by one or more of these stress factors. If all the soil beneath a foundation expands and contracts evenly, there's usually no problem. When only part of the house settles, however, that's when signs of trouble start to show up.
The most common signs of foundation damage in Jefferson County, AL
Practically all residential foundations settle a little over time, and for the vast majority of homes, water tends to be the main cause of soil movement under your house. Problems happen when this settling becomes uneven or extreme. Hairline cracks, especially vertical ones, are fairly normal, but you should be concerned about large cracks that appear suddenly. Sixty percent of homes built on expansive clay soils end up with foundation trouble, and here are the most common warning signs.
Outside or under your home:
Cracked bricks – especially jagged, expanding cracks bigger than one-eighth of an inch
Broken or cracked foundation elements
Separating, deflecting, deforming, twisting, or tilting structural elements
Separation around garage doors, windows or walls
Rafters that separate from ridge boards
Displaced moldings or trim materials
Inside your home:
Doors or windows that don't line up anymore, or start to stick
Bulging, sloping, uneven, or cracking floors
New or expanding cracks in sheetrock
Walls that separate from ceilings or floors
Damp building materials, musty odors, rotten wood, mold, or water stains
Collecting moisture or condensation in basements or crawl spaces
Most foundation problems can be taken care of quickly and affordably, so there's no reason to panic, but you should call an expert as soon as you see any of these classic trouble signs.
What to do if you see signs of foundation trouble in your home
If your home sits on the variable soil types around Birmingham, Alabama, here's what you should know about repair options and how to ask the right questions. The more information you have on modern residential foundation repair methods, the more prepared you'll be to make a confident choice about the option that's best for your home and budget. Let's explore a few from simple to advanced.
Spot Piers – For more lightly loaded areas, these smaller, shallow piers are usually dug out by hand in strategic spots and then filled with concrete and backfilled. This solution is for more minor corrections under lighter structures or extensions to your home like porches or carports.
Slab Repair – In some cases, unsupported concrete can be stabilized by injecting high-density polyurethane foam below the slab. The advantage of this method is that it's relatively fast and low cost. This is similar to the lifting process you may have seen used on cracked exterior concrete like driveways.
Concrete Piers – Before steel piers, poured-in-place concrete piers were preferred for new construction, and are also useful for repairs. It's a permanent solution, but requires drilling rigs that may be difficult and costly to move around your property, and also tears up your yard with a lot of excavation.
Steel Piers – A big technical improvement over concrete piers is the engineered steel pier. They're very effective for stabilizing a variety of foundation issues, but can be installed much more quickly than poured concrete and are a lot less disruptive to your landscape.
Helical Piers – Experts say that helical piers are among the most versatile and durable methods for different foundation repair situations. As with their steel and poured concrete counterparts, they're designed to connect your foundation to deeper, more consistently supportive layers of soil. They're less disruptive to install and can be customized to fit your home's needs.
Again, the more you educate yourself about relative advantages of different repair options, the better your chances are of finding an affordable solution. In most cases, a trustworthy foundation repair professional will be able to help you find a quality solution that will fit your budget.
The worst thing you can do is ignore the issue and hope that it will just go away on its own. Settlement and cracking can lead to serious structural damage and the longer you let it go, the worse it can get. Side note: foundation damage costs are typically not covered by standard homeowner's insurance policies, unless it can be shown that the damage was caused by a covered source such as major plumbing leaks.
Buying or selling a home in Birmingham with foundation problems
As of last year, Birmingham was one of the hottest housing markets in Alabama, according to housingpredictor.com. Homes tend to hold their value compared with other markets, so many realtors consider home investments around Birmingham to be low risk and stable. For reference, last year Birmingham's median residential cost per square foot was $97, up from $83 back in 2012.
In addition to being the Jefferson County seat, Birmingham is also an attractive real estate option because of its relatively low cost of living and the variety of job opportunities in industries like banking, healthcare, construction, retail and insurance to name a few. There's also a vibrant arts, culture, and education current that appeals to a wide variety of interests.
Because of the mix of clay and loam soils in the region, and the alternating dry and wet seasons, homes in the Birmingham area are statistically at risk for foundation trouble. Chances are that you'll run into one at some point, either as a buyer or a seller. The good news is that foundation problems don't have to ruin the transaction for either party as long as you ask the right questions and get the right help.
As a buyer, you want to be sure to get an independent home inspection. A qualified structural engineer will be able to tell you whether the house is structurally sound, but may not be able to help you estimate the costs of various repair options. For that you'll need to talk with a reputable foundation contractor before you make an offer on the house. Many issues can be fixed easily and affordably.
For sellers, a foundation problem doesn't automatically mean that you're stuck with the house, or that you'll be forced to take an unacceptably low offer. Again, you'll want to get expert advice as quickly as possible, just like in the buyer's scenario, and get trustworthy answers about what you're dealing with. The best foundation contractors offer transferable warranties that will give your buyer peace of mind.
How to find the right foundation repair help
In bigger metropolitan areas like Birmingham, Alabama, foundation repair companies of all sizes, (and from across the entire price, quality, and customer experience spectrum) will be eager to get your business. Go with the cheapest, and you might end up with quality problems that offset your savings. Go with the biggest, and you risk getting lost in the shuffle. Go with the smallest, and you might get more personalized attention up front, only to find that they disappear after (or during) the job.
Look for an experienced company that's small enough to make you a priority, but large enough to back their work with solid customer service and warranty protection. Choose a contractor that will offer you a competitive price based on real value, but not a lowball bid that cuts corners on quality materials and workmanship. Beware of companies that use high-pressure sales tactics to rush you into the sale.
A trustworthy foundation repair contractor will give you an honest evaluation of all your repair options and patiently help you choose the one that's best for your home and your budget. SouthernDry is that kind of boutique foundation repair company. We're family owned – small enough to give you the personalized service you deserve – and big enough to deliver the experience and reliability you need.
Personalized attention, quality, and value from a customer-first foundation expert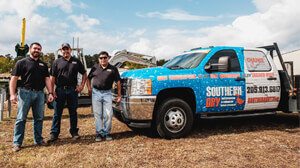 We're a foundation repair company first.. The only reason we're in business is to ensure decades of worry-free living in your home. We do that by offering you transparent, competitive pricing, and by staffing your job with people who care personally about delivering great work and great value.
With SouthernDry, you get one-on-one attention from first estimate to final repair. We'll answer your questions, make the recommendations that are in your best interests, and stick with you until the job is done to your satisfaction. In the unlikely event that something's out of order, we'll come back out promptly and make it right. Homeowner's choose us over the big box outfits because we're relentless about quality.
For peace of mind about your foundation, call us at (205) 719-2544.